Top 9 high converting ecommerce WordPress themes for your online store
As mentioned in the article about :
How to choose a theme for your online store using Woocommerce 
Today I will introduce the Top 9 high converting ecommerce WordPress theme for your online store.
I hope you choose the right one for your online store.
Note: This article contains affiliate marketing links, which means if you buy through the link in this article. I will receive a small commission from the software vendor. To help the blog maintain and grow. The price of the software remains the same.
Thank you for reading note
Flatsome
Topping this list is Flatsome—sales theme for today's top-selling e-commerce website.
As of the time of this writing, the number of people buying it has reached a beautiful figure of 128,786.
Sales growth is impressive and persuasive. In other words, it is very terrible.
This figure is due to the following reasons.
Get creative with UX-Builder.
With hugely diverse customization capabilities. There are many agencies, freelance web designers, and store owners like me and developers who choose it.
But, what makes Flatsome a Legend, is the ability to customize the interface. UX-Themes only develop a single product; they invest most of their effort into UX-Builder – the heart of Flatsome!
Because it is easy to customize the interface with UX builder, many programmers think it's so ugly that they want to fix it. Then promote it to your customers. That makes its reputation increasingly distant.
UX-Builder is a Page Builder developed specifically for Flatsome.
It allows users to unleash their creativity to create their skins, UX-Builder now has over 300 Premade Layouts & Sections.
Imagine you can create thousands of different sales interfaces, with only one unique theme !!!!
Just fast, compact, and lightweight again.
Just invest your learning time. Then nothing is impossible with this theme.
You can customize a ton of different custom themes.
Many Web design services companies also use only Flatsome to create dozens of beautiful Websites: teen fashion shops, watch shops, perfume shops, fruit shops, furniture shops, classic style footwear shops. , or the company page, services, real estate, etc., and Landing Page for products, events
If you look at it, it's hard to imagine all of those stylish web templates made from one single product – Flatsome!
And if you don't want to customize it, the number of demos is enough for you to build your store.
Specifically for new users, Flatsome built more than 17 Shop demos and still has more updates. You just need to choose the Demo you like to Import,
all the sample Websites will be set up for you to start updating information, His products, and articles!
I had a review and explained why I chose Flatsome for the online store that I made for customers. You can see it here.
See website use theme Flatsome
https://kazad.com.br/produtos/
-> Check Pricing<-
Woodmart theme in listTop 9 high converting ecommerce WordPress theme
If only three words about this theme, I will write is: fast, smooth, and economical.
Fast:
The truth is like that. I installed Woodmart on this website. No need to install any optimization plugin; it loads very quickly already.
Because it has the function of lazy loading extremely useful images.
Nice: of course, loads fast, so it's lightweight, smooth, beautiful, and easy to use.
Its interface is flat with 45 Demo. Give you the freedom to choose websites to sell different products, not just furniture. It's like its Woodmart name.
Saving :
Because when you go to its theme setting. You just see that it has so many features. You should have bought another plugin to get it.
For example, the feature displays the number of products sold. Will help increase the reputation of your store in the eyes of potential customers viewing your product.
Usually to have this featured theme. Requiring you: One is to know how to fix the theme to theme one piece of code. Second, you buy or download plugins that support this feature. Like the Woocommerce count sales plugin for $ 49.
Then, the Ajax search feature makes searching easy without reloading the page.
Search feature integrated with the Relevansi plugin.
Then lazy loading, and many features to help you sell on your e-commerce website.
In the context of starting a business to save costs like this. Woodmart is a smart choice for your online store.
It has only one drawback: It is if, unfortunately, you have not installed the website logo on the first installation the next time. It will be challenging to reinstall because the customized part that is previewable does not have this feature. Moreover, due to having installed all the settings in the theme settings, this custom section has only a few simple custom features.
But rest assured you. You can still do this by using the Woocommerce plugin that will assist you in installing your store logo.
Although newly launched, WoodMart has surpassed a series of names such as Kalium, Savoy, Electro .. to join Flatsome and Shopkeeper with the top 3 Best sales theme. In the list of the best selling weekly themes on Themeforest
The design of this theme does not support stereotype competitors and meets SEO standards as ethical as Basel.
I will write a detailed review of this theme after a while of using it. Remember to read it on this blog.
Where to buy Woodmart
If you can't wait, then quickly order on Themforest. Use it to see if your words are correct.
See website use this theme
https://www.iristendeparalumi.com/
-> CHECK PRICING<-
If you do not like Flatsome in terms of interface. Still want features like it, the Shop keeper is a suitable alternative. The interface is only slightly different from Flatsome.
But sales say it all. If Flatsome is the sales theme for e-commerce website No. 1, then ShopKeeper has been in position two ever since.
Contribute to this success. Probably due to the focus of the theme designer
The getbowtied developer-only develops the sales theme, and they only have four themes: Shopkeeper, Merchandiser, Mr. Tailor, and The Retailer. Still, these are both best-selling themes and are rated five stars on ThemeForest !.
Shopkeeper's design is very modern and highly aesthetic, following the trend of today's online stores.
Besides integrating the Visual Composer plugin (now renamed to Builder Bakery) as of the Woodmart theme. For users to create their designs, Shopkeeper allows users to manipulate and edit right in the Customizer so you can build a sales shop interface very quickly!
Watch the shop using this theme
https://polytronic.ca/
http://thisandthatmilitarysurplus.com/
-> CHECK PRICING<-
Electro is a new name compared to Flatsome and Shopkeeper, but since its launch in 2016, it has always been on the weekly Bestseller list at ThemeForest.
Not as versatile and full of demos as other themes, Electro focuses entirely on optimal designs for electronics and electronics sales systems.
It allows you to choose from 4 header styles, three homepage types, nine custom pages, and nine color schemes not too many, but all of them have a 'perfect' design for electronics and electronics sales!
In addition to integrating the Visual Composer & Revolution Slider, Electro also integrates YITH WooCompare plugins – allowing you to create professional product comparisons!
If you need a theme for an electronics store, Electro is the theme that helps you accomplish your goals fast and efficiently!
Update – early 2019 Electro has integrated Elementor Page Builder with new demos – allowing for a very light & easy shop creation.
Watch shop using this theme
https://www.videosatservice.eu/
https://ibherdesign.com/fr/
-> CHECK PRICING<-
Savoy is the Bestselling Minimalist AJAX WooCommerce Theme on ThemeForest. Similar to the Arum theme that I introduced in this article. It is also a minimalist theme. And also sell very well on the ThemeForest.
If at first glance, you will wonder why a theme with a minimalist design like Savoy has been in Topic's weekly Top Bestselling for the past few years!
But, Savoy's weapon is not in the eye-catching design and the ability to customize the interface, but it is the "awesome" loading speed thanks to Fully AJAX Load support!
Thanks to the Minimalist design, Savoy is suitable for most types of clothing; it helps you to create a shop with a "luxurious & sophisticated" style!
In addition to building the necessary features so that users can create a standard SEO sales shop in the fastest way, Savoy also integrates (optional) Page Builder Visual Composer and Revolution Slider for those who want to customize open. Add interface!
Watch shop using a theme
-> CHECK PRICING<-
Maxshop sales theme for a shop selling electronics
This is the first theme that I use for the website selling air conditioners, amplifiers, radio speakers of my friend next to my house.
At that time, I was only exposed to WordPress to find this theme. Seeing its features is really cool with two Silder Revolution plugins. Create sliders for banners on web pages. And the Visual Composer plugin (now renamed Builder Bakery) makes it easy to build a home page. Like the Demo.
You only need the product theme as it will help you automatically theme to the existing product catalog. And displayed on the homepage always.
With over nine demo layouts for different electronics stores and 1 for selling furniture. You can customize comfortably offline.
In addition, now it has a theme optimized for mobile.
Then Ajax lives search helps customers find products directly and easily.
In the past, there were not many of these features. Now it is.
Unfortunately, my friend deleted the website. So I can't show you guys.
But the illustration that you see above is the old website I created with this theme.
But rest assured, I have found other websites using this theme already.
You see here offline.
Watch shop using Maxshop
https://www.itnetworkswitches.com/
http://minhtrigroup.com/
If you want to use it for your online store, check it out.
-> CHECK PRICING<-
The home shop is famous for creating themes for each type of website specific to each industry, especially for bloggers making money from affiliate marketing or news blogs that help you make money from major ad networks like Google Adsense, Mediavine. However, most of their themes also support users to install the Woocommerce plugin to turn standard websites into a professional online store.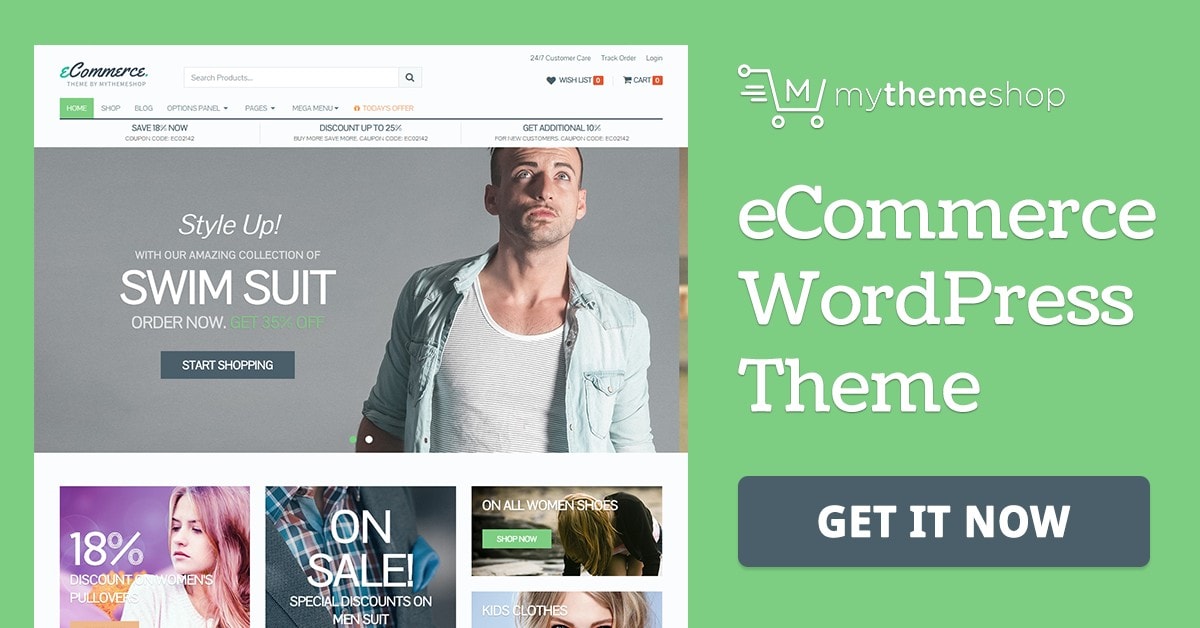 One of Mythemshop's best-selling themes that specializes in solutions for business owners is the Ecommerce theme.
Unlike themes in ThemeForest that allow users to customize the interface freely thanks to the built-in Page Builder, eCommerce Theme builds a "perfect" interface for shop sales with six header styles, product carousels, product reviews & comparison, and slider widgets …
You can also customize the homepage interface with very active links. Thanks to built & optimized interface, eCommerce is easy to use and fast to load!
Another plus point of eCommerce is its lovely design. The built-in color schemes are stunning, suitable for many types of products.
Of course, you can change the Scheme color to your liking if you are confident in your "aesthetics" eyes!
Another plus point that I noticed after installing this theme to my friend who sold computers and technology.
It is this theme that is very effective for finding support from customers on the website.
Its search bar is very long. Great search box. Put it right below the website's slogan or on the left side of the screen.
you see a website using this theme: http://ezykoo.com/
It has up to 9 types of search boxes in the header settings. Let you choose the sample freely.
When clicked, it stands out. Help customers focus more on finding products.
Also, Mythemeshop focuses on making the Search Ajax feature very good. So you can search quickly without having to reload the page.
It is precisely the same as the minimalist design themes, which I have listed above.
For those of you who don't know. Why am I talking about the search feature so much?
Because: People who searched for your product are 200% more likely to convert into customers than people who visit your store. Just to see the outcome.
Therefore a good sales theme for an online store is to be a compelling search support theme for customers.
See website demo in reality.
Watch shop using this them :
https://www.bhcfurniture.co.uk/
http://everythingbirdsonline.com/
Oh, forgot to talk about the price a little bit:
Check Pricing is 59 USD for three websites/year.
Wellness Pro (StudioPress) theme for sellers of lifestyle and healthy products
Genesis and StudioPress have been recognized by many bloggers, WordPress experts, marketers as the world's fastest and most standard SEO WordPress theme.
Some bloggers also confidently say that since using genesis as of this blog. They no longer use SEO-enabled plugins like SEO by Yoast or Rank Math SEO.
Because this theme is continuously optimized for SEO.
But many people think it is not suitable to make an e-commerce website. Because their motto is: 'Simple is the best' '
And on the product inventory, they only make a few themes for shop sales.
But less does not mean poor quality, lack of prominence, and is essential and appropriate to your needs.
If you want to make, shop sales load extremely fast. It is optimized for Woocommerce. You just install it will know they have a few plugins that support Woocommerce exceptionally well. Rarely has any theme that has its plugin for Woocommerce support, except for specialized websites to do not say what to do.
Not to mention the extremely light code. This theme has a delicate, gentle design suitable for selling fashion products, crafts, DIY, second-hand appliances. Health care products, green lifestyle, environmentally friendly.
You will love and love Wellness Pro at first sight.
Because the design is wonderful from the image, the layout to the front is very good looking.
I personally really like the front text of this theme. It makes the look very sturdy. Healthy and tough. But equally feminine.
You can see the Demo here.
http://www.willowtreemartialarts.ca/
https://www.mercatinodellusatomilano.it/
http://lovebakingproject.com.au/
Price Wellness Pro
Only 99.5 USD receive a beautiful theme and lifetime updates.
This is the first theme I use when learning to make a sales website with Woocommerce.
I must say that because the same house with Woocommerce for this theme is a perfect optimization for Woocommerce.
This theme builds on the famous framework _s (Underscores Starter Theme) and developed by the authors of WooCommerce, so StoreFront has very standard code, fast loading, and excellent compatibility with WooCommerce and its Extensions system!
The storefront is a free theme. The purpose of the creation is for users to create sales shops from simple to complex.
They also have paid versions too.
Of course, the number of installations is also numerous, up to over 4 270 355 installs. The number of paying buyers is too high.
However, cheap is true of mine in this case if you are not a WordPress expert. But I want my shop to be as beautiful as the opponent's web. Then you need to buy paid child themes from the Woocommerce store. Like Boutique, Bistro, to get a strong and professional sales theme.
you can see shop using storefront :
Conclude:
In this article, I have introduced you to the top 9 high converting ecommerce WordPress theme. Among them are some themes that I have been using, such as Flatsome, Woodmart, Maxshop, E-commerce. And some of the best selling themes are highly valued by the community such as Shopkeeper, Electro, Savoy, Wellness Pro, Storefront.
Of course, I also note to you one thing: Theme on the website is very important in retaining users. But it is not the only factor to motivate users to become your customers. It's the content and other accompanying features.
To support, create the best user experience (UX) on the website. That is to make the buying process on the site easier.
So you buy the website still need optimization. Tailor it to suit your actual situation needs.
Rather than expecting to buy and then install it effectively will come soon. This should take at least a month to improve.
Dear friend. About the theme is an item in the list of articles about the topic to optimize the conversion rate on your e-commerce website.
See you again on these topics. And other articles that help business owners, marketers, and freelancers increase sales and leads on your website.
The article uses materials collected on the internet.